Our class visit to Greenmount
12th Oct 2016
The boys relax in a hide out.
Who is hiding in the bushes?
Two boys stop for a rest.
Learning about the grey squirrels from America.
Why are there so few red squirrels?
Hand feeding the ducks.
We enjoyed eating our snack at the picnic tables .
Learning about symmetry in the walled garden.
Pumpkins come from America.
We were allowed to lift some apples from the ground.
We thought they were cabbages until Mairead pointed out the brussel sprouts.
Beans have seeds.
Poppies come from France.
The lime tree is an invader.
Winnie the Pooh would be happy in this garden.
We even saw some wild strawberries.
Archive
Izak 9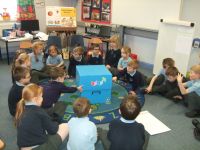 Kirkinriola Primary School, 5 Clougher Road, Ballymena, BT43 6TB | Telephone: 028 25644959 E: info@kirkinriolaps.ballymena.ni.sch.uk

WEBSITE BY: SCHOOLWEBDESIGN.NET | Login